Monster Energy launches its third skate RED Epic Cam Series: The City Is Our Playground featuring Nyjah Huston who was filmed skateboarding in Newport Beach and Irvine at night where his raw talent is defined in Orange County's streets.
This video showcases the hard work and dedication Nyjah must put into his true love of skateboarding, even if it requires he and his homies to skate on through the night.  I've taken plenty of night shift jobs in my day and I must say, it's no easy task.
My first job as a security guard for RAVES was one of the hardest things I've ever encountered.  Imagine checking into your job at roughly 3PM just to have a meeting with the chief security guard.  After that, I had to get acquainted with the other guys who would be standing guard with me until the wee hours of the morning.  Then I sat around doing nothing until about 9PM when I had to post up in my spot for the next 10 hours or so.  That's not even the hard part.
The moment 10PM hits, I could feel the very first beats of the night ripple through the hot air as if a dinosaur is about to attack and EAT ME.  The first hour passes and I got through it.  The second hour passes and I sort of got through it.  Before I know it, the clock strikes midnight and I found myself tapping my feet to the groove of the music.
Three o'clock hit and i just couldn't take it any more.  DJ CARL COX hit the stage and I was in an all out hypnotic state.  My security windbreaker came off and high on life (and maybe half a dozen E pills), I was dancing the night away.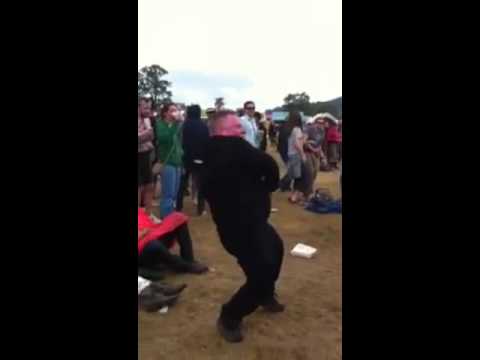 Next thing I knew I was getting chewed out by the head security guard while I was chewing halfway through my lip.  Anyways, I know exactly what Nyjah Huston must go through in order to get the job done.  Trust us kids.  It is not easy.
Regarded as one of the best young street skateboarders of all time Huston will never forget the roots of where he started skateboarding or the genuine love and passion that continue to push him to evolve and perfect his every trick in the streets.  His dedication and countless hours of real street time have paid off making him the world's best and most consistent street competitor in Rob Dyrdek's prestigious Street League Skateboarding's™ DC Pro Tour fueled by Monster Energy history – an event series where 24 of the world's most respected street skateboarders compete on real courses that emulate city streets in an arena setting.
"No matter how big contests get I think it is always going to go back to street skateboarding," said Nyjah.  "Street is where skateboarding came from."
"I am somewhat of a perfectionist," continued Nyjah.  "Yeah you're going to get hurt every now and then and you're going to take hard slams practicing tricks over and over, and really loving skateboarding to the point where that is all your mind is set on."
To be so young and have already achieved so much Nyjah appears unstoppable and on track to continue to dominate street skateboarding.   His determination and amazing talent will allow him to progress and continue to drive the future of street skating.
Shooting at 120 frames per second – this video captures Nyjah's dominate and mind- blowing skills, while featuring a unique sound design with no music creating an enhanced audio and video experience.
Stay tuned for upcoming Monster Energy RED Epic Cam Series featuring other Monster Energy athletes.