Every neighborhood has that guinea pig who is willing to do anything at the snap of the fingers.  It's not necessarily always the youngest kid.  It tends to be the kid looking for the most acceptance from the other neighborhood kids.  Our neighborhood guinea pig was named Saihill.  He happened to be the youngest kid.  He also had the face of a TURTLE.  Sahill being Saihill wanted acceptance from the older kids so he would literally do whatever we would request for him to do.
"Hey Saihill!  Go buy me an ice cream."  "Saihill!  Go pick up my dog's poo with your bare hands."  "Hey Saihill!  Go run your bike into that pile of trashcans as if you're a bowling ball."  Now granted, we weren't bullying little Saihill.  He would be doing all of these things with a huge chuckle.  A turtle like chuckle .  But do you know where all that initiative and moxie got little Saihill?  Today, he's a very successful Wall Street investor out of New York.  And you know how he rose to fame?  Because he quickly became the most popular kid on a street full of other successful scholars who would later bend over backwards for Saihill.
I too even presented the opportunity to Saihill to maybe someday be a guest contributor on the greatest ACTION SPORTS website in the world.
You can't make kids do anything these days.  Most kids have almost an air of self entitlement. But the ones that do take on those challenges just might one day grow up to be like Saihill.  Like the kids at the Tampa Pro 2012 who took on the challenge to race through a muddy ravine of raw sewage.  It's pretty disgusting.  Check it out in the video below and see the amazing results from this year's Tampa Pro 2012.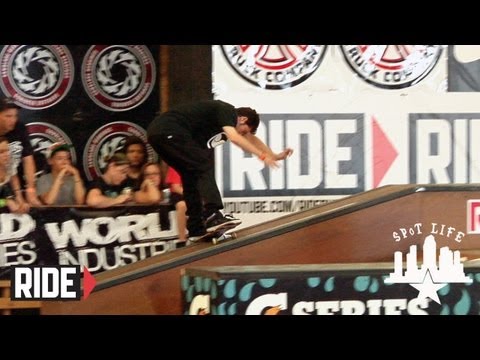 Final Results
1. Torey Pudwill
2. Chaz Ortiz
3. Sean Malto
4. Leo Romero
5. Felipe Gustavo
6. Chris Cole
7. Nyjah Huston
8. Kyle Berard
9. Greg Lutzka
10. Ryan Decenzo
11. Matt Bennett
12. Billy Marks
Best Trick
1. Rodrigo Leal – Hardflip backside noseblunt on the rail
2. Chris Cole – Inward heelflip noseslide on the rail
3. Jordan Hoffart – Big heelflip bluntslide fakie on the rail
4. Billy Marks – Triple kickflip down the gap
5. Matt Bennett – Fakie ollie switch frontside feeble grind on the rail
After a close finals at Tampa Pro 2012, Torey Pudwill took first over Chaz Ortiz and Sean Malto.  Lil Wayne awarded the podium their prizes, with Pudwill taking home the $20,000 cash purse for first place.  Pudwill landed the unique tricks that gave him the pop to take first tonight at Tampa Pro.  By showing originality on his final run, he was able to surpass Ortiz through tricks that had not yet been attempted on the course, such as his smith grind up the flat bar and his lipslide across and down the hubba both frontside and backside.
"This has honestly been the biggest year with the craziest skating here at Tampa Pro," said Torey Pudwill after being crowned first.  "It's been such an honor for me to win, and I can't believe it… I'm so psyched."
Torey Pudwill qualified second after street qualifiers on Saturday, putting him automatically through to the semi-finals on Day 3 today of Tampa Pro with the "Golden Ticket" along with Chaz Ortiz.  Red Bull athletes Torey Pudwill, Ryan Decenzo, Zered Bassett, Braulilo Sagas, and Ryan Sheckler all qualified for the semi-finals today, but only Pudwill and Decenzo made it through to the finals.
"I'm hyped and honored to be on team with Torey for both Red Bull and DVS," said teammate Luis Tolentino after his win.  "I hope to skate Tampa Pro with him next year."
Red Bull athlete Luis Tolentino kept up with the pros all three days of the contest, documenting the best skating of each day and his adventures on Instagram.  His recaps of each day can be found on redbullusa.com and youtube.com/redbull.
Skateboard legend Mike Vallely took home Red Bull's "That Shit's Tight" award for landing the giant boneless off the wall over the loveseat trick.  Vallely had crowds cheering as he brought back tradition and memories to the 18th installment of the Tampa Pro.