Before I ever got behind the wheel of an automobile and learned to drive on city streets, I learned to really drive on the deep rolling grassy valleys of WALNUT, CA.  In an open area, you don't have to worry about the normal obstacles like other cars, center dividers, or people.  You can literally do donuts for hours and nobody would get in the way of your fun.  But if you don't have access to an open plot of land, a video game is your best bet.
Before you can get behind the virtual wheel yourself with Jeremy McGrath's Offroad, coming soon to both Xbox and Playstation, we offer the next best thing – an intense trailer comprised entirely of in-game footage!  This brand-new video shows off the full HD presentation, the dynamic obstacles and destructible environments, the customization and RPG elements and more that are all set to make Jeremy McGrath's Offroad the definitive digitally-downloadable racing title of 2012.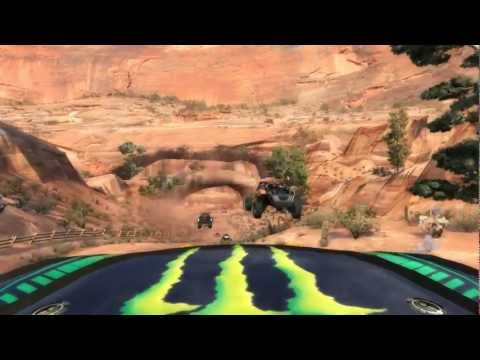 In Jeremy McGrath's Offroad, players race four-wheeled, 800-horsepower offroad race trucks with tons of options, as well as a wide load-out of vehicle classes including Rally Cars, Pro Buggies and Pro Lite Trucks.  Eight-player multiplayer boasts dynamic interactions between all competing vehicles so players can see and feel the impact of mid-race collisions.
Career mode follows Jeremy's bid for the Pro2 championship within the Lucas Oil Off Road Racing Series.  All this arcade racing action takes place inside a persistent game world that presents challenge after challenge at 60 frames per second in crispy 1080p. Published by D3Publisher for Xbox LIVE Arcade, Jeremy McGrath's Offroad will be available for both Xbox LIVE Arcade and PlayStation Network in Q2 of 2012 and can be purchased for 800 Microsoft Points from the Xbox LIVE Marketplace for Xbox 360 or $9.99 on PSN. For more information, visit www.raceroffroad.com, or check us out on Facebook and Twitter.