Many of you may assume that through my extensive knowledge of action sports, I am a pure action sports AFICIONADO.  But even though I am an action sports aficionado on the surface, an aficionado of action sports is not all that I am.  I am also an expert in travel, STREET DANCING, travel, Christmas songs, POGS (before '96), and a whole list of other things that if you have questions, I will have answers.
Ever since I took a summer judo class back in 2009, MMA is quickly becoming one of my favorite hobbies.  Since a UFC agreement with Fox and a growing popularity worldwide, there is no question that it is becoming one of the fastest growing sports today.  But everywhere I turn, it seems like the streets are filling up with more and more skaters every day and network television too is showcasing skate events as well.  So that leaves me with the impossible conundrum of deciding which activity will top list of hobbies.   Should MMA take a backseat to action sports?  Or should action sports take a backseat to my totally awesome looking FULL NELSON?  The UFC held its first ever event in Rio de Janeiro, Brazil.  But the Maloof Money Cup is responding with it's first ever event in Kimberly, South Africa.  Both sports are reaching the far corners of the earth.  Both sports hold a dear place in my heart.  I guess only time will tell.
With skateboarding's unprecedented exposure to the world thanks to organizations like THE MALOOF MONEY CUP, people from all over the globe are experiencing the best skaters in the world first hand.  When an LA DUDE such as myself may take Chris Cole's 360 flip fs lipslide for granted, a little South African dude will forever have that visual cemented in his memory forever.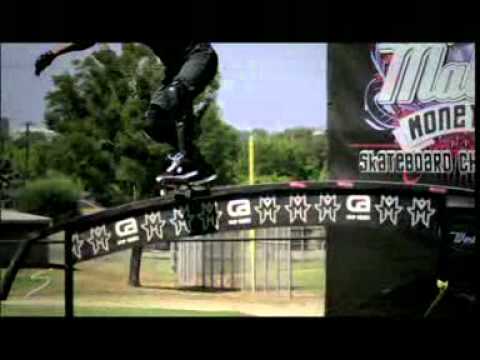 The final preparations are being made for the Maloof Money Cup Skateboarding World Championships in Kimberley, South Africa this weekend, Sept. 30 – Oct. 2.  The best professional street and vert skateboarders in the world will compete for a cash and prize purse of nearly $500,000 and a world championship title.
Construction is in its final stages this week and more than 120 local volunteers from Kimberley came out to the park to assist with a special tree planting ceremony Monday, part of the Northern Cape Provincial Government's initiative to create more green space in Kimberley.
Hazel Jenkins, Premier of the Northern Cape Province said, "This skate park will be the finest in the world and will attract skateboarders, worldwide, to Kimberley." The skate park design pays tribute to Kimberley's heritage, incorporating the famous Kimberley diamond into the design, as well as large areas of green space. The skate park is situated near "The Big Hole," a former diamond mine that was once the world's largest and considered the largest hand-dug excavation on earth when it was finally closed in 1914. The Maloof Skate Park will remain behind after the contest and is the centerpiece for a new convention center and hotel complex that will position Kimberley as the extreme sports capital of South Africa.
The Maloof Money Cup South Africa will also feature a 50,000 square-foot Festival Village offering DJs, autograph signings with pro skaters and skateboarding activities for all ages.  Access to the Festival Village is free and open to the public. A Benefit Concert will be held Saturday night and will feature local South African acts including Danny Kaye, Lefa, Jozi, HHP. Grammy winning artist Lil Jon will headline the contest. Tickets are available at www.computicket.com.
Pro skaters Lizard King and Matt Miller arrived in South Africa early to visit local kids and conduct skate demos leading up to the Maloof Money Cup South Africa, including a visit to Postmasburg.
"Being here in South Africa is absolutely amazing, insane. We went out to Postmasburg and taught kids how to skate over the weekend," said pro skater Lizard King. "The kids are awesome. I found out today that Kimberley was voted #2 for the nicest people in Africa. No joke; from a guy wearing a suit. Everyone here is so amazing, so nice, willing to do anything for you. The course is definitely the best Maloof course ever made so far.  It's sick. The contest is gonna be insane. I'm hyped, can't wait to skate."